The Better Half got a makeover and we're excited to show you. The new-look packaging reflects the two loves in George's life: Jules and vintage aircraft, although Jules isn't sure which comes first!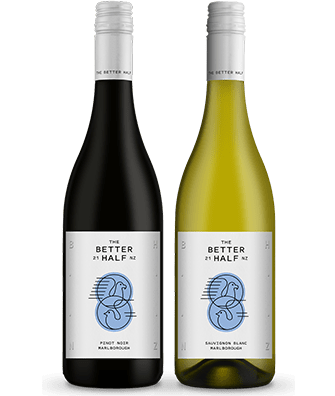 We've drawn inspiration from the airline industry to include stylised bird emblems and 'rivet' details like those used in aircraft construction. They're what George spends plenty of time looking at as he works to restore a vintage Fairchild airplane.
Two birds on the label represent George and Jules. The strong eagle is George: a daring risk-taker who is always looking to the future. The gentle dove is Jules: the loving peacemaker of the family who is admired for her careful, meticulous approach.
Together, they make an unflappable, formidable team who complement each other perfectly. George and Jules have dared to dream big and now fly high with a successful stable of world-class wines tucked under their wings.
We hope you love the new design as much as we do! Like George, though, The Better Half isn't just a pretty face. There's a whole lot of Marlborough magic inside ready for you to enjoy.